Address: 210017 Vitebsk, Gagarin str. 41A
tel. 36-17-40
Head of the hostel  Graskova Irina Sergeevna
Komendant   Osipkov Alexander Leonidovich
Kastelyansha  Lyalyugo Olga Pavlovna

Educators:
Belous Vladimir Valerianovich
Gankovich Valentina Ivanovna
Kamenkova Margarita Petrovna
Sinterova Alla Leonidovna
| | | |
| --- | --- | --- |
| | REGULATIONS on the dormitory of the branch of BSTU "Vitebsk State Technological College" | Скачать |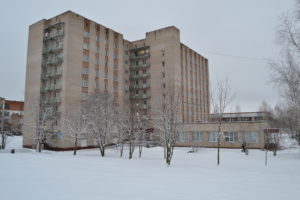 Educational and ideological work in the hostel is carried out according to the plan for the current year. Questions of life, the organization of free time of students, the development and strengthening of the material base is decided by the hostel council, working under the guidance of the deputy. Director of OIA – in close contact with the head of the hostel, the commandant, educators, head of the department for educational work with young people and the chairman of the trade union committee. A meeting of the hostel council is held once a month according to a previously drawn up plan, as well as when necessary. The hostel council consists of the following sectors: housing, organizational, mass cultural and sports, editorial, public order and educational sector. Cultural and mass work in the hostel is carried out through conversations, discussions, competitions, round tables. A volunteer squad has been created from the number of senior students, which, together with law enforcement agencies, solves questions of law and order.
The teacher and the attendant on duty at the dormitory supervise the work of the head of the floors to maintain order and prevent violations of discipline, the watch on the watch, the floors, in the public rooms is established. There is a review competition for the "Best Dorm Room", the winners of which are awarded with valuable prizes.
Students are repairing rooms in the summer. The educational sector, together with the educator, exercises control over the students' self-training. A subscription to the periodical press is organized (newspaper files are located in the self-preparation room). Informational stands have been designed and constantly updated: "Healthy I am a healthy country", "Belarus is my homeland", "State symbols of the Republic of Belarus", "Corner of legal knowledge".
The hostel organizes the work of the association for the interests of "Photography"; the residents have the opportunity to visit a sports and fitness center, a swimming pool.